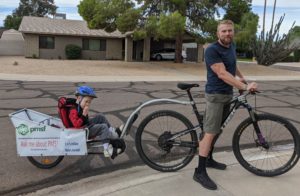 ABOUT
A place to share whatever hobby I am currently involved in. I used to build and race fast cars, then I started doing off road ATV desert racing and now I am doing mountain bike stuff.
Updates
12-13-2020 Ryken and I raced in the 12 hour Dawn to Dusk race to raise money for the Phelan McDermid Syndrome Foundation! Story here.
11-12-2020 Wickenburg Tour de Ranch MTB race towing Ryken story and video.
10-21-2020 My friend Tristan launched http://www.theautoelectrician.com/ an automotive wiring repair company. I am racing in the Wickenburg MTB race next month and towing Ryken for lap 1. Its going to be fun.
4-20-2020 Added Suspension to Ryken's Weehoo kids trailer, its awesome.
12-16-2019 The race with Ryken was Saturday and it was a blast, here's my write up.
11-15-2019 I am doing a mountain bike race while towing my son in his bike trailer in order to raise money for his rare disease and for his therapy dog. Ryken's Phelan McDermid Syndrome Foundation Fundraiser
6-15-2019: Slow Carb, Low Carb and Keto. I started doing the 'Slow Carb' diet 3 years ago then switched to Keto after 2 years and now I am more like "low carb" It is still working for me, I occasionally update this page with more info.
1-15-2019 Jeremy suckered me into another bike race at Papago in Tempe. It was fun. Check the story in the mountain biking section.
12-10-18 I have been riding my mountain bike a lot so I entered a mountain bike race and wrote about it. McDowell Mountains Dawn to Dusk
KendallRace.com ATV Racing Updates
From here down is all related to ATV Racing
10-23-18 All my quad stuff has been sold for a year now and I have not ridden since January of 2017. I definitely miss it, some day I will be back in something with a cage.
9-16-17 The quad I used for the local races is for sale. My Best in the Desert race quad sold back in February. The one I have left has Roll Design a-arms, Elka Stage 5's, HRC kit with new top end, LSR axle, flexx bars, IMS tank, precision stabilizer and more. If you wanna buy it please email me.
2-16-17 I took off the rest of 2016 to give my wallet a break then started riding again in late December. I was pre running for my hometown Vulture Mine race on Jan 7 when I hit a bump and flew off the quad and landed on my shoulder. It was tremendously painful and I broke my scapula (again) and my clavicle and a rib. This led me to make the decision to "retire" from racing and I am selling all of my quad stuff. The BITD 05 TRX450R is sold, I still have quite a few parts and my 07 TRX450R. SO this is probably my last entry on my racing blog. It was a great 10 year run.
8-25-16 We finished 2nd at the Vegas to Reno, it was a great time. Read all about it here and check the pics.
3-30-16 I created a new tech page all about tire weights and diameters since I am running the new GPS Gravity tires from Goldspeed Racing and nobody has data on them. Check it out.
3-24-16 Steven made a great recovery and after being in a coma for a month and in a rehab facility for another month he is home now. He has a long way to go with this brain injury and eye sight but its a miracle he survived. The racing season is picking up again with round 2 of the AZOP hare scramble series in Cottonwood (really camp verde) in a few weeks. Looking forward to it. i am also going to be doing some measuring and testing on Goldspeeds new 8 ply desert tire. Stay tuned.
1-10-16 Unfortunately my team mate Steven Parkerson crashed at the Parker 250 2 weeks ago and he is still in a coma with a brain injury. He has no other injuries. We are holding a big fundrasiser for him at the AZOP Vulture Mine race next weekend. There will be lots of great prizes and all of the pro payback is going to Steven's expenses. Please come out.
Best in the Desert has also donated a motorcycle/quad entry and a UTV entry for this years Vegas to Reno the Long Way in August. These are valued at $1100 and $1500. I am holding a raffle for these items wich all proceeds going to Steven. Go here to buy a ticket. Steven's BITD / Moose Raffle Steven's BITD / Moose Raffle Steven's BITD / Moose Raffle
12-16-15 The quad is almost 100% ready for the Parker 250. I have joined up with Goldspeed racing for wheels in 2016! Updates coming after Parker!
Kendall/Funke take 3rd at BITD "Vegas to Reno"
GBC Tires / Moose Racing team claim second straight podium at Best in the Desert
Phoenix, AZ (8/18/2015) – The Q11 Kendallrace.com team of Trent Kendall and Conrad Funke teamed up to take on the longest off road race in the United States on August 14th. The team has been getting stronger each race most recently taking 3rd in quad pro and 10th overall at the Silver State 300.

The Q11 machine was second off the starting line, 60 seconds behind the Q1 team of Prather/Scott. Thanks to their very strong Dirt Fiend Racing engine package, the Q11 team would stay within 1 minute of Q1 up to race mile 220 where they needed to stop for an extended pit. The quad was shaking pretty bad and it felt like the front tires to me so we swapped front tires at a pit and Q9 Matt Hancock passed us in the pit. Conrad did the next section and the virbrations were so bad coming from the rear that he couldn't pull 5th gear. At the next pit in the dry lake bed we replaced the 2 rear tires with my old spares on OEM Honda rims and we got passed by Q66. This fixed the vibration and Conrad was able to ride hard to pit 10 until he got a rear flat. Without tireballs there he had to race on the rim. He pulled into the pit about 2 minutes behind Q66 and 5 minutes after Q1.
I got on at Pit 10 in 4th place and I was feeling good and the quad was running awesome. Heading into pit 11 you race through the streets of a small town. I was hauling butt and I entered the pit as Q1 was leaving. We did a uick fuel stop and oil level check and I was off. The next section has a very long straight part and I was able to see Q1 and Q66 about a mile or 2 ahead of me. Halfway to pit 12 I was in Q1's dust. I could never get close enough to make a move though.
Ater the race I learned that entering pit 12 Q1 was able to past Q66 and then get passed back in the pits. I pulled into the pit about 20 seconds behind Q1. Exiting Pit 12 you turn left and go through about a mile of whoops. Ahead I saw a quad in the course, I got there and Danny was on the ground. He had ridden hard into a huge rut that caused him to crash. I stopped to check on Prather; it appeared that he had a broken arm or wrist. Prather insisted that I get going so after about 2 minutes I left hoping to catch Q66.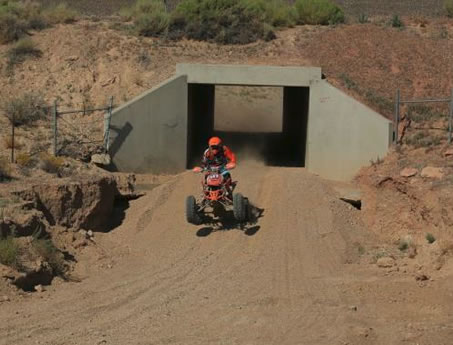 Kendall gripped his Spider Grips hard and took off after Q66 but a few miles later the Q11 machine wadded its chain into the engine case and swing arm. Thankfully it was repairable and after a 15 minute delay the Q11 was back in the race and making its way through the rain rut devastated section from Race Mile 440 to 468. The Lonestar Racing / PEP suspension handled the rough stuff with no problems. At mile 468 Conrad Funke took over and rode hard to the finish line after we adjusted the chain some more.
The Q11 team ended the race in 3rd place and 11th overall. The Q9 Hancock Brothers team took first place and the Q66 team took 2nd place. After the race Kendall stated "In this stacked pro class you need to have good sponsors, strong race prep, racing skill and especially some luck to win." This race had a 60% finish rate but every pro ATV entry finished the race showing the level of talent in the Pro class. Racing with the best of the best is awesome and we are a small community and everyone helps each other out during the races. I love it, I just wish it wasn't so expensive!!
Following the Vegas to Reno race the Q11 team is sitting in 3rd place for the season. They are currently seeking sponsors to make an even stronger showing in 2016.
Big thanks to everyone who made this possible the pit crew of Shannon Gladdem, David, Amanda, Chris. Wayne at PEP, Rudy and Sam at DFR, Bobby and Dan at LSR, Roxanne at Moose Racing, Jason at Fasstco, Becca at Spider Grips, Kory at GBC Tires, 100% Goggles, Kenny at Sprocket Transport, Mike at United Distribution. It takes a lot of help to be competitive in this class. Thanks to everyone.
The tireballs rep has been very helpful since the race helping us figure out the vibration issues and I hope to have it fixed for the next race. Switching from a tire with balls to one without is a definite big adjustement. You feel all the little bumps and rock without the balls and we had far less traction in the rear with the regular tires. The GBC tires we used for the race are still holding air with the exception of one that has a giant hole in the side that nothing could have handled.
Extra special shout out to Conrad Funke. He is an awesome team mate and we rode hard this year. He is extremely knowledgeable, generous, talented, prepared, and a big team player. He always has a positive attitude and he made my program better. I wish he wasn't retiring, I tried my best to talk him out of it but I failed. Good luck in the future Conrad!!
Trent Kendall 2015 Sponsors: Moose Racing, GBC Tires, Dirt Fiend Racing Engines, Lonestar Racing, 100% Goggles, Spider Grips, United Distribution, Sprocket Transport, Fasstco Handlebars
More High Res Photos Here: http://racerpress.com/kendall/vegasreno/index.html
Trent's Racing Blog, August 2015
I just got done with the biggest race of the year which is the Best In the Desert Vegas to Reno. We placed 3rd. Look for the press release soon. At the beginning of August I raced in the very challenging Cinder Mountain 2 hour hare scramble I placed 3rd out of 9 pros. It was a very hard race I was extremely pleased to place 3rd. I made the pass for 3rd place about a quarter mile from the finish line it was very satisfying.
Trent's Racing Blog, May 2015
I haven't been racing since February. We placed a disappointing 4th at the BITD Laughlin GP aka the UTV World Championships. The quad wasn't setup right for the extremely boring/smooth course and it cost us. The day after that I had a really great time racing the Vulture Mine 100 in Wickenburg, AZ. It is my hometown race and nobody has raced there since about 2009. It is a true desert loop and very fun and challenging. I placed 2nd in the Pro class out of 9 pros. I can't overstate enough how fun that race is for a desert racer.
Last weekend, May 2nd was the Silver State 300 and I had an awesome time at the Best in the Desert Silver State 300. It's been a long time since we had a good day at a BITD race, this post is going to get long and seem like a victory speech even though we got third place, but anytime I can give my best effort and leave it all out on the course is a victory for me. We had very fast pit stops all day and had zero mechanical issues. We had one scheduled longer pit stop to change the air filter and that is where Q1 got around us, they were really moving. Conrad got held up a bit at one of the road crossings but I am sure others did to. Coming up to a Y in the road at RM255 there were no course markings. I had a 50/50 shot of getting it right so I guessed left and my heart sank when the road dead ended at some dudes trailer. Based on the donut marks I wasn't the only one who made that mistake. I talked to Matt after the race and he went the wrong way too. At the end of the day we took home 3rd in Pro Quad and 10th overall and we got beat fair and square by two faster teams that day. For most of the day you could toss a blanket over the top 5 Pro quads. It was an awesome day of racing and its great competing against the best of the best.
Huge thanks to Conrad Funke for joining me mid season and being an awesome reliable team mate who can really haul ass on this Honda. His wife Amanda came out and pitted for us on Saturday which was a huge help. Congrats to the Hancock Bros (Jeffrey Jacob Hancock and Matt Hancock) on another win, they are very hard to beat.
For the third year in a row we put a big rock through the side of a rear tire. 2 years ago I melted a set of tire blocks on the 700 after 30 miles on a flat. Last year I went 40 miles on a flat and melted down a set of Hiper Pro Fills. Racing on the rim of course slows you way down. This year I sucked it up and bought a set of West Coast Tireballs prior to the Parker 250. We went around 100 miles on a flat on Saturday and it didn't slow us down a bit. The balls are expensive but they paid for themselves right there and I anticipate when I break the tire down 80% of the balls will still be useable unlike my past experience with other brands. Huge thanks to GBC Motorsports for sponsoring us for the 2nd year in a row despite our lackluster finishes last year. These tires were used for the Parker 250, the Laughlin GP and the SS300, the fronts are still great but the rears are finished which is awesome for 730 miles of racing.
Competing in this niche sport against the best takes a whole new level of prep and planning and doing it on the cheap is just about impossible. This is the first year I started doing what the Championship winning teams have been doing for 8 years and that is having a quad that ONLY gets used at these races. It sucks not being able to ride it but blowing up and DNF'ing sucks more as I found out last year. Allen at CT Racing has been telling me this for years and giving me other free advice. It is cool when your top competition's builder is giving you great advice because he wants to see competition in the sport.
Thanks to Rudy at Dfr Motosports for building me an engine that lasts and makes good power. This engine has all 3 races on it and it is still running strong. Rudy also knows what it takes to prep and build a truly professional program and he has helped me out a lot despite the emotional bruises he is always dishing out. smile emoticon
Our PEP shocks were begging for more abuse all day, Wayne at PEP has helped me out a lot getting these dialed in. You gotta do your homework to get his help and it is definitely worth it. These shocks are setup specifically for my Lone Star Racing A-arms and swing arm. LSR also did the work on my frame, stem, axle and locknut. They have been with me for over 5 years now. Thank you.
Thanks to my wife JoLea Kendall for always being supportive and watching the kids while I am off visiting the exotic deserts of Nevada and Arizona. I couldn't do it without my dad helping me at all these big races and doing all the driving. Thanks to Shannon Gladem for joining the team this year and bringing lots of enthusiasm to every race.
Moose Racinghas been with us for 3 years making sure we always look good. We also get our bearings, tie rods, brake pads, sprockets, service chemicals and gaskets from them. Their shipping and service is so awesome it makes you feel like a real pro. Moose also introduced me toRIDE 100% goggles and I have been with them ever sense. I love their goggles.
I bought the rear wheels from Douglas Wheel – DWT Racing in 2008! They have never sponsored me but I gotta say they make one helluva wheel. These wheels have been on my quad for 7+ race seasons and probably 1000 miles of pre running in Baja plus all my play riding.
Spider Grips have been providing us with grips for 3 years and we have never had an issue with grips or blisters with them. I have also been with Fasstco Flexx handlebars for about 6 years and I won't race without them. Everyone knows their bars are the best.
Tyler at Metal Tech Custom Fabrication has done a lot of welding for me on my quads with awesome results, fast turn around time and always lower than expected prices. We also get a lot of parts from United Distributing LLC because their prices are fair and they normally have it in stock. They support a lot of local racers so check them out.
Looking forward to another good day of racing in August for Vegas to Reno!
Trent's Racing Blog January 2015
My racing partner Joe retired for this season so I searched high and low for a new partner for the Best in the Desert series for 2015. Its hard finding someone who has all the qualities that make a good team mate. You need someone fast but also someone who doesn't crash. You need someone reliable and some mechanic skills are a big plus. You also need someone who can pay their end of the entry fee, fuel, hotels, provide their own chase truck and pitch in for the machine expenses. It is not cheap to compete at the highest level. You basically want a new quad for every single race in order to beat the guys riding Q1. Finding someone fast, reliable and able to pay their portion is very tough! You gotta be a little loony to pay these fees to race in the middle of the dusty desert.
Luckily I found James Woodford from X Travel. I have raced with him before and he is fast and he has been a fill in rider on the Q1 machine. I basically lived in the garage building a "new" machine to use for the Parker 250. I started with a fresh frame and had Lonestar Racing gusset and powdercoat it. I had Wayne at PEP rebuild the shocks. I replaced all the bearings in the entire quad with parts from Moose Racing. I had Tyler at Metal Tech doing some welding and fab stuff. Rudy at Dirt Fiend Racing built me a new engine. I got new tires from GBC, new chain and sprockets from United Distribution. New number plates and tank graphics from Sam at DFR. I also had Lonestar powdercoat my beat up bead lock rings and front bumper. My wheels have over 7 years of racing on them!! DWT makes one helluva wheel. My fronts are from Hiper and while I have seen a hiper crack I have had good luck with mine.
Tristan Jones from AZ Mobile Mechanics also helped me out a lot getting ready for the race. He is teaming up with Chuck Borges in the expert class for the entire season and I am looking forward to chasing and pitting with them this year.
The week of the race James took the wheels and tires to Tireballs for some tireballs but they were sold out. I called Ken Stuart at Skat Trak and begged him to sell me some of his used tireballs from their racing days. Not only did he agree but he took them to his house where James picked them up. Then Danny at Tireballs mounted them up for us.
Heading into race day I was feeling good about our chances. In 2014 we had the speed to win but finished second so I was hoping for redemption. James started the race and brought the quad to me at midway in 2nd place. I completed my lap in good time and built up a 3 minute lead over 2nd but we were trailing the crazy fast Hancock team by about 3 minutes. We needed to tighten the chain during this pit stop and that cost us a position. I am not sure why the chain loosened up, it was broken in prior to the race.
James left the pit 1 second behind 2nd place and 8 miles later he crashed hard and hit his head and rump. The quad was not damaged so he continued on but we fell back to 5th place which is where we ended the day. I was disappointed to have 2 crashes in 2 years but I was pleased with how the quad performed. It was also good to have my old team mate Joe and the XX Army running our pit at midway.
It turns out James broke his tail bone so he is out for the February 22nd Laughlin GP. Luckily I found a partner quickly because it is someone I was speaking to about teaming up with in 2015 anyway. Conrad Funke is a great WORCS racer, he is new to pure desert racing but the Laughlin race is a GP so it is right up his alley. The day after the Laughlin GP is the Vulture Mine 100 in Wickenburg, AZ. This is going to be an awesome desert race and I am looking forward to attempting to compete in back to back days. The last time I attempted this was around 2011 when we won the Blue Water GP then I drove to Page, AZ and won the Whiplash Page 100. It was a great time and I can only hope this time is as much fun. Chuck, Tristan and Shannon will be attempting this back to back racing extravaganza with me.
Trent's Racing Blog September 2014
Our 2014 Best in the Desert season has been disappointing. We started off great in Parker with a second place after leading for half the race until a crash slowed us down. At the Silver State 300 we were in third when the motor spit the rod through the engine case. Then at Vegas to Reno last month we were leading at RM 140ish when the transmission blew up. So our season is over.
My local races have been going ok. I have competed in all of the Arizona Off Road Promotions races that did not conflict with BITD and I have gotten 3rd in every race in the pro class. It doesn't matter if there are 5 top pros or 12, I still end up in third. I am happy to be on the podium against all the fast Arizona racers. Take a look at the WORCS Pro Am standings, it is dominated by Arizona racers.
I am already working on my 2015 race program. I am ditching the 2006+ Honda TRX for a 2005 model since the transmissions are stronger. My long time team mate Joe Ramos is also semi retiring next year so I have found a new team mate who is new to the desert but not new to Pro level ATV racing. I can't wait for the Parker 250!
Trent's Racing Blog March 2014
On March 1st I competed in the San Felipe 250 in the Pro Class. We ended up taking 5th place, it was a brutally whooped out course.
On March 15 and 16th I competed in the WORCS Lake Havasu Race. I finally hit the lagoon jump, it was scary but fun. On Saturday I place 4th in the Open A class and 8th overall. I qualified for the Pro Am but decided to skip it and race the 30+ A class on Sunday. I got off to a last place start and slowly worked my way through the field. I had no idea what place I was in on the last lap and with about 3 turns to go I caught site of what I thought was the leader Rick Ellsworth. I pushed hard to catch him and I finished 3 seconds behind him. My laptimes were very consistent so I was happy with my performance.
I also added a new sponsor for 2014, I am happy to be sponsored by GBC Tires! Their product has great traction, durability and awesome pricing.
Trent's Racing Blog, 2014 Parker 250
WARP Off Road / Yuma Mortuary / KMS Performance / Moose Racing / Lone Star Racing Q11 team takes 2nd place at the Parker 250
arker, AZ (1/14/2013) – As the 2014 Season starts, the Q11 Kendall Racing / XX Army team of Joe Ramos and Trent Kendall switched their efforts to riding a lighter KMS Performance / Lone Star Racing Honda TRX 450 for the shorter races and keeping the Big Bore Honda 700's for the longer races. For this race we had two teams competing. Joe and Trent in the Pro class along with Mike from Jersey and Adam in the Expert class. We'd also be pitting for a few other teams who needed help at the midway pit.
Race day
Apparently Parker is in the cell phone Bermuda Triangle because we had a hard time keeping everyone's cell phone time set to AZ time. Some of us got up a bit late and others way too early, but everyone managed to get where they needed to be in time for the start. The 1st pro motorcycle was off at 7:30am. We had drawn the first starting position for the pro ATV class and we had about 15-20 bikes in front of us. Joe Ramos leads the pro quads off the start because the team believes he has X-ray dust vision. He was able to set a great pace and passed about 4 dirt bikes in the wash in the 1st 15 miles. Joe makes it to the midway pit in first place and hands of the Q11 Yuma Mortuary/KMS/Moose racing TRX 450 to Trent Kendall.
Trent makes it to the main pit after passing a few dirt bikes and battling a little arm pump. The Q11 quad finished lap one with a 2 minute lead on corrected time over the Q1 team of Dave Scott and Danny Prather. Joe gets back on Q11 at the midway pit still in the lead.
Joe makes short work of the high speed section after midway and gets over the canal crossing maintaining the lead. Joe then comes in hot to an uphill sharp right hander with big whoops and gets bucked off sending Joe and the Q11 bike on a gymnastics contest through the desert. Joe does a full front flip onto his back and rear-end , knocking the wind out of him and sending the Q11 bike on its side. Joe regains himself, locates his lungs, and gets the Q11 machine rubber side down. The quad fires up and he gets moving again but not at race speed. Luckily, although down for a few minutes Joe was not passed but the Q1 and Q83 teams were not far behind. Joe is focused on getting to the main pit about 30 miles away to give it a once over for any damages.
Still in the lead Joe is headed to the scoring loop on the asphalt section when the Q1 machine sneaks up behind and passes him on the pavement. The pass instantly gets Joe back into race mode. Q1 with 2013 BITD Champion Danny Prather and Q11 start off the 3rd lap less than 1 second apart and put on a hell of a show for the people at the start/finish line ripping though there, just shredding up the race course. After a while Joe can no longer see through the dust and he thinks to himself about the crash earlier and decides to kick it down as he was injured and does not need to risk another crash. Q1 started the race 5th off the line so on corrected time they are now beating Q11 team by 5 minutes. As Joe approaches the main pit he gets passed in the python by Q83 Cody Mitchell. The XXArmy main pit crew gets Joe in and out of the pits in front of Q83 Cody. Q11 exits the main pit physically in 2nd position but the injured rider cannot keep the pace and Cody gets by him before they get to the midway pit.
Joe hands the quad off to Trent approximately 3 minutes behind the Q1 and Q83 teams. Trent is able to make up some ground and he passes Q83 Colt Brinkerhoff a few miles from the finish line. Colt was on the side of the course trying to get his machine restarted. Trent knew the Q83 started 3 minutes behind so he hammered down to finish as quickly as possible in hopes of making up the lost time. The Q11 team ended up taking 2nd place finishing 6.5 minutes behind the defending champs on the Q1 CT Racing Honda.
After the race we saw Aaron from the tv show Fast N Loud. We all love that show and it was awesome meeting him. He is a very nice guy and exactly like he is on the show. He was there to take part in the Parker 425 pre run that was happenging the next day.
The Q11 team will be competing in the entire Best in the Desert season along with select SCORE Baja races and the Arizona Off Road Promotions desert challenge series.
The Q11 team needed a good finish to start off the year and have a lot of people on the team to thank:
Lavar Kendall, Adam Barnes, XXArmy racing, Jamie Ramos, Kristie & Kathy, Darren & Mary Kate Mattice, Danny Flower, Jersey Mike Zelenka, Rich and Verna, Norm & Amie Graham, Les Hutchinson, Chris Wilson for the freeze out gear and radio.
Expert Team 421
Mike and Adam had a very eventful day of racing. Adam started the race making good time to the midway pit at mile 31. Then Mike got on and took off for the high speed dirt road section. Mike was hauling ass in 5th gear when the quad felt very strange like it was skiing so he slowed down a bit. Then Mike saw something nobody wants to see, it was his rear wheel passing him!!! He said it rolled for what seemed like 2 miles before finally stopping. Mike was able to track down the wheel, hub and spacers. He then used 2 bungie cords and some safety wire to re-attach the hub and the wheel to the axle because the axle nut had come off. It is extremely lucky Mike didn't wreck or ruin the axle splines as he skidded down the road.
Mikes bungee cord fix got him 50+ miles back to the main pit. His fix was so strong the pit team had to cut off the bungies and the wire before installing a new axle nut. At this point we were worried they might not make it back around to the main pit before the 1:15pm cut off time. Anyone coming through after 1:15 would be stopped in the main pit and receive and DNF. With the quad properly fixed Mike hauled the mail to the midway pit where Adam got on to complete 1 full lap with hopes of getting through the main pit by 1:15. Adam rode strong and made it through the main pit at 12:57pm.
Adam made it to the midway pit where Mike got on to ride the last leg to the finish. Mike rode hard to the finish putting in a very strong split time. I was waiting for him at the finish line where I told him I was pretty sure they got 3rd place! The race started with 9 expert teams and even with all the problems the 421 team of Mike and Adam was able to take a podium spot!! Mike is a quick thinker and hard worker and it really showed in this race. Congrats to the 421 team!
The Q11 team wishes to thank their sponsors:
Yuma Mortuary, Moose Racing, KMS Performance, DFR Racing, Spider Grips, Fasst Flexx bars, Pro Armor, Odyssey batteries, 4wdlights.com, United Distributing, Spy optics, IMS Racing Products, Kenda Tires, WARP Off Road, Napier outdoor truck tents, Wolfsnout, and 100% Goggles
10-2013: I updated the trophy quad page with info about the Wraith 1000 ultimate trophy quad. I got 4th out of 7 pros at the last AZOP race and we got a disappointing 4th in the pro class at last weekends freezing cold Henderson 250. So we ended up 3rd for the season. Looking forward to this weekends Searchlight GP and next months Parker 250.
11-30-2013: I have won the last 3 AZOP races, there haven't been a lot of pro entries and people are missing out…the courses AZOP puts together are amazingly fun. So I have wrapped up the pro championship for this year and looks like we will get 3rd in Open Pro in Best in the Desert. We will be back next year for the championship in BITD.
I started an ATV/UTV business with my friend and it is very exciting. Our grand opening will be in January but we can accept orders now on lots of items. Please check it out www.warpoffroad.com
I also purchased the local quad forum www.arizonaquads.com I hope to get the readership up and to help promote local events and rides as much as possible. In between all of that my wife also gave birth to our son Ryken and that is very exciting!
Lots of races coming up so wish me luck, tomorrow is another AZOP race then Henderson 250, Searchlight GP, Parker 250 and then Baja 250.
10-23-2013: The raptor part out is going well. Still have the engine, shocks, frame, and fuel system. In September I placed 1st in the pro class at the Kingman AZOP race. The course was fast and smooth. Then in October the AZOP series went to Tonalea near Tuba City and had the best course of the year so far. I placed 1st by only 4 seconds on Saturday. It was a very fun and hard race. You can see the article here.
9-13-2013: I am going to part out my desert Raptor. If you need any high quality parts please email me. Everything on this thing is the best money can buy. This includes the entire oversize fuel system. Read more about the fuel system here.
8-28-2013: We placed 2nd in Open Pro at the 540 mile Vegas to Reno race this month. Read about it here on atvriders.com
I also placed 3rd at the Cinder Mountain 100. It was a very tough and rough race and very fun too. There were 9 pros on the line. The event write up is here.
My Moose gear has 8 months worth of racing on it and still looks like new. No threads pulling out of the pants and the jersey is still like new!
The next race is September 15th in Kingman, hope to see everyone there.
6-26-2013: It's too hot to race and too hot the even leave the house in AZ so I went to West Virginia to give GNCC racing a try. I raced one of Adam McGill's backup national quads and I had a blast. Read all about it here.
5-9-2013: I was winning the last round of the AZOP race at motogrande when my engine died and would not restart. I pushed the quad about 1/4 mile around the permieter of the mx section and took the checkered flag so I could get my finisher points. It was my first DNF on the Honda in a few years, turns out a little titanium valve spring retainer broke. Getting it fixed in time for AZOP Rocky Point.
Joe and I raced Pro at the BITD Silver State 300, we were tied for the lead halfway through the race then we started losing time to the winners but we were still solidly in 2nd place until the 2nd to last pit. The quad wasn't running great and we ended up dropping to a disappointing 4th out of 6.
I've uploaded some useful docs for converting an electric start 450R to kickstart thansk to OTMTRX on TRX450r.org. Docs here.
4-24-2013: I won first overall at the AZOP Vidal, CA desert race. Helmet cam here. Then last weekend I did round 4 of the WORCS series in Utah and it was awesome. The course had some very brutal long whoop sections and some really fun desert/dune sections. The scenery there is unbelieable. I placed a best ever 3rd in Open A and I was the 11th qualifier for the Pro Am. I stepped up and finally did the pro am race and I got 8th place. I was very pleased. Helmet cam here and Garmin GPS here.
3-28-2013: I went to Lake Havasu for round 3 of the WORCS series. There were over 1400 entries combined with the bikes, quads, and UTV's. The relatively short course was hammered, probably the roughest race I've ever done, no place to rest. I placed 9th on Saturday in Open A and qualified for the Pro Am race. But there is no way I was paying to do 105 minutes on that track! So I raced 30+ A on Sunday and got 5th. I was hoping to do better but my cardio wasn't there for a race like that. Looking forward to some real desert races coming up. April 7th in Vidal CA and May 18th in Rocky Point both with the Arizona Off Road Promotions group.
3-14-2013: Finally riding again! I was a late minute addition to the 3A Pro ATV team at last weekends San Felipe 250. Felt great to be riding and racing again. We finished after the time limit due to 6 hours of downtime with electrical problems. My helmet cam footage.
1-30-2013: Wrist still isn't healed so still not riding. I am also selling the Pro Desert Raptor, please spread the word.
12-5-2012: Unfortunately it took 6 weeks for my wrist fracture to show up in the 2nd MRI so I had surgery last Tuesday. So no riding for at least another 6+ weeks. I am very bummed to be missing the Parker 250 but I hope to make the Canyon WORCS race so I can start earning points for the 14 race Off Road Challenge Series!!
I also sent this sponsor thank you card to all my sponsors, thanks!!

10-17-2012: I hurt my wrist 2 saturdays ago so I was relegated to pit guy this weekend while Adam teamed up with Tom to win the Expert class at the AZGP Motogrande team race. The course looked awesome, I am bummed that I missed it. I am also missing my trip back east to the GNCC race this weekend. I will be riding again in December and we are once again comitted to the entire 2013 Best in The Desert series in the pro class!
9-24-2012: I teamed up with Shiloh for the final round of the AZGP Canyon night race series on Sat night. We got first in the quad class and 3rd overall with the bikes. It was a fun race. Thanks to KMS for building a great engine and Motowoz for the awesome shocks. The race was rough and rocky and fun. Garmin GPS log
9-6-2012: I got 3rd in open pro at last weekend AZ GP race in Cottonwood. My heel guard broke off the frame and I had to stop in the pits to get it ripped off. Cost me some time but still a fun race. Helmet Cam footage.
8-22-2012: My Vegas to Reno story is posted here!
8-14-2012: We are all prepped and packed for Fridays big Vegas to Reno race. We are 3rd off the line in the pro class. This is the biggest race of the year for us. We will be live tweeting updates @kendallracing.
7-31-2012: I won the pro class in El Paso last weekend. It is a pretty good story, click here for the story and helmet cam.
7-25-2012: We drove out to Gallup, NM last weekend for the Chupacabra 100 put on by NMORS and AZORP. It was a fun race, very technical and well worth the drive from AZ. Can't wait for next year, they are adding another 9 miles to the course with more high speed sections. I placed 2nd in Open Pro. Here is the helmet cam footage. Heart Rate and GPS Log. Race Results.
6-25-2012: I updated the ATV weigh in page…I weighed the Hiper wheels, Pro Fills and ITP Holeshot HD tire on a shipping scale. These tires are heavy! The pro fills are basically non existent which is cool. I also teamed up with Adam at this months Speedworld Night team GP and we won the Limited class. It was a fun race!
6-12-2012: I have been riding for about 3 weeks now. I still can't train much but riding doesn't hurt my leg. Nick and I won the team GP in Tucson last month aboard the heavyweight Raptor. Then this past weekend Adam and I won the limited class at the Speedworld 2 hour night GP. It feels great to be racing again. Looking forward to the AZ GP series 3 hour night GP at Canyon at the end of the month. We are getting the Raptor ready for Vegas to Reno, looking for a top 2 finish in the Pro class there.
4-5-2012: I fell off a ladder like a dumb dumb and tore my ACL and fractured my Tibia so no racing for a while. I have been bored so I updated the tech page with up to date into on the 06 and 05 Hondas.
3-15-2012: My San Felipe 250 (Baja 250) story is online here.
2-24-2012: My awesome custom, championship winning LSR chassis is for sale. I need the money to fund my Pro BITD season. Here are the details.
2-21-2012: I have been doing the local races put on by http://arizonaoffroadpromotions.com/ and they have been great. Everything runs on time or ahead of schedule and the results are posted quikcly. The pro payouts are also good. I placed 3rd at the Verde Valley GP and this past weekend I got first overall with Nick Steinman as my team mate. Here is the video footage: www.youtube.com/watch?v=CIkz5jZCxLg
1-11-2012: After countless hours and lots of money getting ready for the Parker 250 and our Pro BITD debut we ended with a very disappointing DNF. The engine suffered a failure on lap 1 while we were in the lead pack of Pro quads. Still not sure what broke, we will tear it apart soon. I did add some finished Raptor photos to the Raptor page. It turned out very nice.
12-27-2011: The guys from Grinding Stone MX park have put together a great ATV/MC GP series for 2012. Check them out: www.arizonaoffroadpromotions.com
12-6-2011: We didn't do very good at the Henderson 250 last weekend. We didn't get enough test time with the new awesome 70+ horsepower KMS engine and it sucked down way more fuel than exected and we had to run the stock fuel tank. So we found out the quad goes 45 miles on 2.9 gallons, too bad we needed to go 46 miles. So we ended up 4th or 5th for the race and 3rd for the BITD Expert season.
For 2012 we are moving up to the pro class with this Raptor 700 with the help of KMS Performance. The engine will be even more powerful. We just have to dial in the suspension. Follow along with the build using the Pro Desert KMS Raptor link on the menu.
11-23-2011: Kendallrace.com is mentioned in the latest issue of Dirt Wheels magazine. They provided a link to my tech article about putting an 06 TRX engine in an 05 frame. I recommend against doing this, it is hardly worth the effort but all the stuff to do it is provided in my article. 🙂 Thanks for the mention dirt wheels!
I finally posted the article about the Raptor 700 custom desert tank.
11-15-2011: I tried my best to qualify for the WORCS Pro Am race last weekend and I barely did it, by getting 11th in the Open A class on Saturday. But the 40 minute race was really hard on me, either I suck at turns or my quad isn't setup right for it or both. My shoulders and forearms were dying after only 1 lap. It felt like I was fighting the quad through every turn. So I chickened out on the 90 minute Pro Am race and settled for Sunday's 30+ A class. I finished 3rd there in the mud. If I plan on doing more GP racing I will try a different setup with my suspension and probably a lower steering stem.
Here is my GPS log from the race.
The KMS Raptor for 2012's Pro BITD season is going to be a monster, we will be using next months Henderson 250 as a testing ground for some of the new parts.
So far I like my lightweight EVS Revolt chest protector, it is much more comfortable than a traditional protector and it guards against the roost just as well.
9-12-2011: I placed 2nd in the Open Pro class in yesterdays Cinder Mountain 100 race, it felt great to be back racing Whiplash again. The race course was brutal but fun.
9-6-2011: We are teaming up with KMS Performance to take on the Pro class in Best in the Desert for 2012. We will be building the Raptor 700 into a fire breathing monster. The title sponsor will once again be the Big Bang Entertainment video game company. We will be documenting the entire build here.
8-22-2011: We had a very disappointing weekend at the Vegas to Reno race. We were leading our class most of the day and we were top 1 or 2 overall quad on the course when our engine started losing power and eventually dying so we did not finish, we made it almost to pit 11.
8-7-2011: I got tazered at Taser HQ to raise money for my friend Sterling's kidney transplant. You can get access to the video here.
Kenny and I won first place in the ATV class and the Grinding Stone night race in July. It was an awesome race.
6-6-2011: I raced with a Sportsmen ATV team at the Baja 500 and we finished in 4th place. I got great helmet cam footage of me being passed by the trucks and buggies on a high speed section. Full Story and Videos Here.
5-16-2011: We got 1st in class and 6th overall at the Blue Water GP! That is a really cool place to race, pitting on the beach is awesome.
Results with laptimes
5-6-2011: We got 3rd at last weekends Silver State 300. We are 3rd or 4th in the points, hopefully we do well at the Blue Water GP next weekend!
4-13-2011: James Woodford Baja 250 Ironman story has been posted here!
2-2-2011: We are having a benefit ride at Grinding Stone MX on April 23rd. It is a normal practice day with all kinds of fun side events, free lunch and all proceeds go to riderdown.org. Please attend!
Facebook page with more info.
1-13-2011: My article all about my experiences with the X Travel custom chassis is up. Click here to read it and see pics.
1-11-2011: Well after many hours of hard work getting the X Travel chassis ready for the Parker 250 we ended up with a DNF. We were running good in 2nd place when the low hour engine seized up. 🙁
12-16-2010: I added a page all about the Big Bang Desert Racing team and a page for the XX Army Desert Team.
12-6-2010: The Big Bang Entertainment Desert Racing team had a rough race this weekend, when I was on the quad I stopped for a downed motorcycle rider which set us back 2 minutes, then we had 2 flats so we ended up in 4th for the Henderson 250 and 2nd for the 2010 Best in the Desert Expert Championship.
12-3-2010: Thanks to Dunlop ATV for sponsoring me for 2011. I will be using their 20″ Quadmax Sport tire for all short course and GP races.
11-22-2010: My "Trophy Quads" compliation page is up. Lots of big wheel travel quads in there including some nice Hybrids like Greg Stuart's. Go here.
11-1-2010: I finally posted my big wreck story and images here. I can't believe my axle and steering stem broke at the same time, who did I piss off? 🙂
10-13-2010: Major lack of updates lately, my axle snapped in practice causing me to lawn dart into the dirt and I broke my back, scapula and messed up my knee and cheekbone a bit. That happend on September 27th and I am still in a backbrace. I am hoping to be ready for the final BITD race of the season but chances are not very high right now. It was my first real crash ever and it sucks that it was due to equipment failure. 🙁 I will be running the LSR pro axle from now on, the axle that snapped was made by someone else.
8-23-2010: We took first in the Expert class at the Best In the Desert TSCO Vegas to Reno race!!! This is the biggest off road race in the United States. Story here.
8-18-2010: Thanks to Diego at Baja Designs for rushing out a set of lights for our Vegas to Reno quad and handling all our questions.
I also just had my alpinestar boots resoled by a place in Phoenix, it was only $25 plus $55 for the soles online. If you need your boots repaired I suggest these guys:
Wolverine Boots 623-847-0000. I found them on google and they did an awesome job.
8-9-2010: Thanks to Lone Star Racing for doing some custom mods to my LSR frame, hopefully this will cure my pivot bolt problem. I got 3rd at the Cinder Mountain 100 this weekend, it was a very rough but fun race. I missed the overall win by 40 seconds! My last lap was my fastest lap and I was the fastest on the track on the final lap. Big thanks to Motowoz for the awesome shock setup for the never ending whoops! I am up to 2nd in the points now even with 1 missed race.
Check this vid to see what I mean.
My Vholdr Helmet Cam Footage is Here.
7-14-2010: Big thanks to Quadtech for sending me a free seat cover to replace my ripped one! I never expected a warranty on a 3 year old seat cover! Thanks again!
7-7-2010: I placed 2nd at last weekend Firecracker GP in Prescott AZ. It was a fun race! Click here to check out the 2010 Poster I made to thank my sponsors.
5-17-2010: Very busy weekend! I raced in the BITD Blue Water GP and the Page Slick Rock 100 on Sunday with Whiplash. Check the stories section for the big write up.
5-10-2010: I added the helmet cam videos from the Silver State 300 and from Speedworld MX practice.
3-30-2010: I have added quite a few new Vholdr HD helmet cam videos from around Arizona in the multimedia section.
3-19-2010: I placed 3rd in last week's Whiplash Prescott Valley GP. I had really bad arm pump again for some reason so the race was really hard for me. Here is some of my helmet cam footage from my Vholdr Contour HD camera.
2-23-2010: I just finished up my giant article on racing baja, it contains everything I have learned in the past few years and I think it will help out anyone looking to race in Baja. Racing Baja Article.
2-18-2010: I place 2nd in the 1st Whiplash Desert race of the season last Sunday! The season is off to a good start.
Please plan on going to Grinding Stone on April 10th for Larry Beshaw's benefit event. More info here:
http://beshaw.jonre.com/
http://kendallrace.com/bor/larryb.pdf
1-11-2010: We placed 2nd in the Expert class at the Parker 250 on Saturday. Story and photos in the results section!
12-15-2009: I updated my sponsors and schedule for 2010. I also put together an Arizona Quad racing schedule that includes all GP and desert series. You can download it here: 2010 Arizona Quad Racing Schedule
I also uploaded a new tech page regarding the Teixeira Tech Long travel rear linkage and Motowoz Long Travel rear shock. Go the tech section to read it.
I also dyno'd my quads last weekend. Check the tech section for info.
12-8-2009: I am the 2009 Whiplash Desert Racing Sr Pro champion! I was behind by 8 points going into the final race this past weekend. Read the story here! I am very happy.
11-24-2009: My big Baja 1000 story is up, check it out! The vholdr helmet cam footage turned out great at night too!
11-17-2009: The guys at Vholdr.com have teamed up with us to bring you HD footage from their line of wearable, stickable, clampable HD cameras. I will be wearing one of their cameras during the Baja 1000 this Friday and for all future races. Go check out their cameras, their goggle strap mount is awesome.
11-10-09: Last weekend we completed our pre run for the 2009 SCORE Baja 1000. The entire writeup with pictures, helmet cam and GPS logging can be seen in the results and stories section.
10-20-09: I will be racing the Baja 1000 next month in the Pro 450, Class 24 with the 101A team. The team consists of Brian Harris, Barry Bennett, Pete Garcia, Cody Mitchell and myself. I am very excited and thankful for this opportunity. Thanks to Ray Fay for the reference!
I am still 2nd in the Sr Pro points chase with Whiplash, there are 2 races left!
9-28-09: Some friends and I drove out to Glen Helen for the WORCS Pro race yesterday it was great! Glen Helen is much larger and crazier in person. I'd love to try that race next year! Photos Here.
9-18-09: I have been using underWARE glove liners for a few years and I have been developing holes in them every 5 hours or so. I emailed the company and they asked me to send my gloves in. They looked over the gloves and we determined I haven't been washing the gloves often enough, these kevlar gloves should be washed after every use. Then they sent me 2 pairs of free gloves! Their gloves do a great job at stopping blisters and I think they will last even longer now that I will be washing them appropriately. Big thumbs up to Off Road Specialties the makers of the gloves.
http://www.off-roadspecialties.com/
9-8-09: I got my second win a row last weekend at "The RACE" in Snowflake! I am very happy!
8-11-2009: I placed 1st in the Sr Pro class at last weekend Whiplash race at the Cinders!! Full write up in the results section.
7-7-2009: After a month of waiting Score released the official results for my class. Our team only received a very small speeding penalty and the team who had unofficially finished ahead of us received larger penalties which resulted in us moving into 1st Place!! Official results here.
6-11-2009: I raced in the 2009 Baja 500 last weekend. We placed second in the Sportsmen ATV class. Check out the story here.
5-11-2009: I got the quad all assembled with the new LSR frame, Texeira Tech linkage, Motowoz LT rear shock, etc. Check the tech area for full details.
4-27-2009: I placed a disappointing 4th in Sundays Whiplash Firebird race. Check the results section for details. I am also in the middle of rebuilding my race quad again, details in the tech section.
3-18-2009: I received a copy of the new ATV Insider magazine. I scanned the article and you can read it in pdf format here. Thanks to Michelle Forster for the baja photos and DGP Photography for the photo of me on my quad. Thanks to Dave at ATV Insider for using my story and thanks to allfaysracing for the opportunity!

I also missed my first race in 2 years this past weekend due to a horrible flu bug. I hope I can make up the ground I lost in the points chase.
3-12-2009: My baja story will be featured in the latest issue of ATV Insider. They have a great subscription only magazine. Check them out here.
2-26-2009: I got my first Pro win this past weekend. Please check the results page for info!
2-9-2009: I updated the results page with results from the Whiplash opening race. I took 2nd in my first Senior Pro race!
1-26-2009: I added a gear calculator to the tech page. I also took a disappointing 7th out of 14 at this weekends WORCS race in the 30+ A class. I got horrible arm pump after lap 1 and had to slow down.
1-7-2009: DGP Photography is now a sponsor of Kendall Racing. Thanks to them for coming on board, please visit the sponsors section for more info.
1-2-2009, 2009 Season Update: For the first time I sat down and created a racing resume a few months ago and sent it out to the companies who's products I use. Many of them replied and I am happy to announce that I am sponsored by the following companies for the 2009 Racing Season: Motowoz Shocks (returning from 2008), GT Thunder, DFR Racing, JD Performance, BRM Off-Road Graphics, FASST Company and Beshaw Off Road Racing. You can read more about them in the sponsors section.
12-10-2008, 2008 Whiplash Racing recap: Well what a season. Going into the last race in order to win the points title for the Whiplash Racing Open Expert division I needed to win my class and I needed the class leader to finish 4th or worst. I ended up winning the race at Vulture Mine and the class leader finished below 4th so I clinched the points title! All of the hard work paid off.
2008 Baja 1000: I had the once in a lifetime chance to race in the 2008 Baja 1000 on a Pro Quad team thanks to the great people at www.allfaysracing.com You can read all about it here. There are pics in the multimedia section.
2008 Best in The Desert: I raced in my first BITD race at the Las Vegas 150 in October. I entered the Quad Ironman Amateur class and took first in my class and I was the 2nd overall ironman. The people were awesome and the course was fantastic.