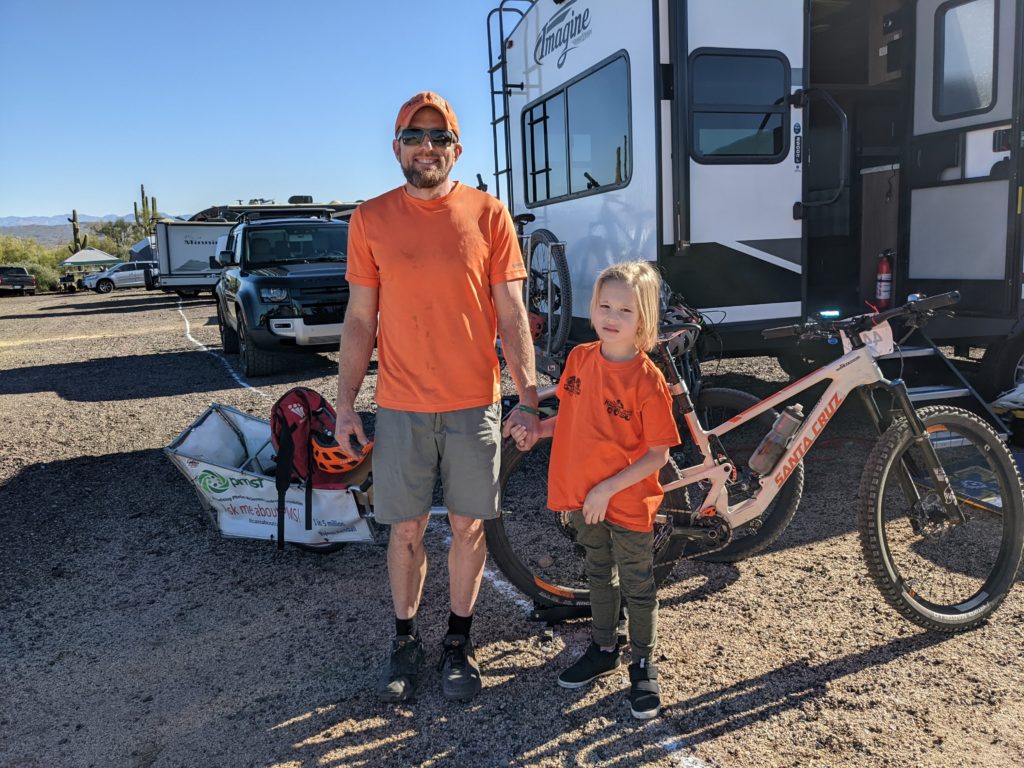 As a fund raiser for the Phelan McDermid Syndrome I towed Ryken during the 12 hour McDowell Mountain Dawn to Dusk race. It is a 17 mile loop with 850 feet of elevation gain. Now that is he 8 and over 55 pounds it is a serious challenge to tow him. He still loves getting towed and he enjoyed every minute.
I did my solo lap about about 930am in the cold and managed 1 hour and 9.5 minutes. Then at 2:30pm I towed Ryken for 1 hour and 31 minutes. I was 8 minutes slower than when I towed him 2 years ago. There were times where I was questioning my abilty to finish but the other racers were very encouraging. We got passed a lot and everyone said very nice things to us, many people accused me of being a badass. Ryken laughed and screamed when people went by and when we went through the puddles from Thursdays rain. Strava says we hit 37 mph but I think its lying. We managed to pass 3 competitors on our journey and Ryken enjoyed that.
Thanks to my team mates for all the good times and help getting Ryken ready to race. Special thanks to everyone who has donated for the fund raiser. There is still time to donate, my next stupid human trick is January 8th where I will be "running" a half marathon with zero preparation and zero experience.