The goal of my entry into this year's 12 hour race was to raise money for a therapy dog for my son Ryken and to raise awareness about his rare genetic disorder by donating some of the money to the Phelan McDermid Syndrome Foundation. I would do one of the 17 mile laps towing Ryken in his trailer that would be decorated with information about him and his condition. Heres a photo of us on a ride before the race:
Our group of friends had 4 teams of 4 men per team which made it a lot fun. Overall the race had 47 teams in our class with hundreds of other riders in other classes. Matt started the race for our team called "4 men and a baby" at 7am. While I was waiting in the rider exchange area my cousin Rich who was riding for another of our 4 teams came in and someone said "You are up" So I quickly put on my helmet and gloves and I took off. Problem is, Rich is not on my team, I was supposed to wait for Matt. Turns out Matt was 13 minutes behind Rich so I really started my lap way too soon which would throw off my laptime a lot. I had a great ride and pushed hard, when I came in and everyone said I did a 55 minute lap I could not believe it. My goal was to be in the 1 hour 12 minute mark which would be a 3 minute improvement over my time last year. After we realized what I did I went and told the race organizers and the only solution was to delete my lap from the results. Thankfully I left when Rich came in so figuring out my real lap time is not hard. I did a 1:09:05 which is awesome.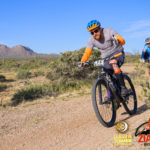 Here's a video that shows the start of the race to illustrate how many entrants there are.
Ryken and my wife JoLea arrived at noon and Ryken entertained himself by collecting rocks in the pits then we put him in the trailer and went to the start line. The trailer was getting a lot of attention and to show how small the world is there was someone there taking pics of the trailer who has a friend who's child has PMSF. This condition is one in 5 million (2,000 known cases in the world) and we know all the families in AZ who have it. Turns out her friend is also a friend of my wife. SMALL WORLD.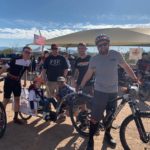 Ryken does not talk and doesn't make a ton of noise but when we ride together he laughs when it gets exciting, like if we hit a big bump or go down a hill. On this ride he was chattering quite a bit and all of the other racers were very nice. They saw his name on the back of the trailer so when they caught us they would say his name and talk to him, hopefully they did not get offended when he did not talk back to them. He did wave a lot and make his noise for Hi a lot. We also managed to pass quite a few people which surprised them. At the last road crossing Ryken caught some air and the flag in his trailer flew out, I yelled back to the road crossing worker that we would come back for it. My goal was to do a lap in under 1 hour 30 minutes and I honestly wasn't sure I could do it because the first 8 miles of this course is a gradual uphill that wears you down and its hard towing 100 pounds of trailer and Ryken.
Earlier in the day when I was telling the organizers about my stupidity starting my first lap too early I also reminded them about why I was riding and Ryken's fund raiser. So when we came to the finish line the announcer talked about PMSF and everyone cheered. Ryken was clapping too which was great. He had a great time and we finished our lap in 1:23:54 which surpassed my expectations by a lot. Ryken and JoLea stayed for a little while after our lap before leaving and on the way out the picked up the flag from the course worker.
Finish Line Video
The race continued until 7pm and we all ate way too many cheesesteaks and brick oven pizza from the food trucks that were there. Most of us also got a very good sports massage from the on site therapy tables. Racing with friends is a ton of fun and everyone made Ryken feel very special. Thanks to all my friends for coming out and racing and making a great day. The image below shows how our 4 teams finished along with each persons lap times.
My friend Bill made the banners and the frame to hold the banners to the trailer and they really transform the look of the trailer and spread the word about PMS. We raised enough money to pay for Ryken's dog and some training. There will be enough to donate approximately $1,000 to the PMSF. I am going to keep taking donations until the end of the year before sending the money. We pickup the dog on January 4th.
Thank you very much to everyone who donated, it means more than I can adequately express. I kept track of everyone who provided contact info and we plan to send out a thank you card once we get some good event photos and dog photos.